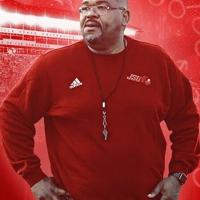 WVU players remember Calvin Magee as a father figure | WVU Mountaineers
MORGANTOWN — He was an uncle and a father to them, the man who was Calvin Magee, the former West Virginia running back coach who died at 59 over the weekend after suffering a fatal heart attack, according to the players who worked under him. in what was a glorious era of West Virginia football.
Magee was serving as the offensive coordinator for Rich Rodriguez at Jacksonville State at the time of his death.
They talk about the x's and the o's as his coaching style brought out the best in them, but it went way beyond that.
It was the interpersonal relationships he had with them, the trust he had in them that brought out the trust they had in him, and the loyalty he had in them when they were at their lowest. lives that went a long way in leading them to one of the biggest wins in WVU history.
In 2007, WVU was about to play Ohio State for the national championship when Pitt caused them one of the most inexplicable upsets in college football, beating this offensive juggernaut who was a 28.5-point favorite on his ground.
The shadow that was cast over the state after that game, head coach Rich Rodriguez headed for the door that led to Michigan and the program seemed on the brink.
Magee was going to go with Rodriguez, but he stayed with interim coach Bill Stewart to prepare the team for the Fiesta Bowl and Oklahoma, the No. 3 team in the nation.
"In the middle of a coaching change, when everyone was doubting us and writing us off for dead, he showed up every day despite the fact that he was leaving and going to another school. He gave us everything he had and in return we gave everything to the rest of the coaching staff," said Pat White, whose relationship with Magee was close.
"We won that game 48-28 and that's partly because he treated it like it was the biggest game of his life."
Rasheed Marshall, the quarterback who preceded White, recalls Magee being part of another storied West Virginia win, perhaps not as decisive as the Oklahoma win that saved the WVU football franchise , but just as surprising and exciting.
"We were about to enter the field and we had a conversation just before leaving," Marshall said on Monday.
"Listen," Magee told Marshall. "Now is your time. If you want to rise up and get on that stage, now is the time to do it. Go out there and have a good time. He patted my helmet. He had a smile on his face.
"It let me know the level of trust he had. Nobody else believed in us but he knew I was the driving force. He was saying, here's your opportunity, this is your moment to We had a lot of those moments, but this one stands out for me.
It should stand out as it was one of the most famous and thrilling games in Mountaineer history. Unranked and facing a No. 12 ranked Hokie team in the nation, Marshall broke a 7-7 tie with a 7-yard TD run.
WVU felt he was leading the rest of the way, despite being threatened twice. They had to stop the Hokies on four straight runs from inside 1 with center linebacker Grant Wiley making the tackle at four with 3:21 left.
Then, a few minutes later, VT shoved the ball deep but decided to let an equalizing field goal pass with 12 seconds left, only for Brian King to intercept Bryan Randall's pass in the end zone.
Marshall said Magee, a former NFL tight end, reminded him of an uncle.
"He wasn't my positional coach, but we had a lot of interaction because of what we were trying to do on our program. It took a ton of communication between the two of us. With me carrying the football and all the quarterback races we had in place, we always had to be on the same page.
"Good guy, tough on you, wanted to make sure you were doing your best. I have and have always had the utmost respect for Coach Magee because he always went the extra mile to ensure the things are going well.
"He stayed after practice and worked with you, just to make sure everything was okay."
It went beyond the coach-player relationship.
"Not to get into race relations or anything like that, but he was someone you could think of as a father figure, literally. With our background, coming out of homes where the mothers did the work and the fathers were perhaps not there, you could listen to him.
"He laughed with you, he joked with you, made sure you were okay and between the lines, it was time to lash out," Marshall said. "Again, not to make it a race, I think that played a part. The level of comfort we had with him; it was just a great dynamic.
"He was our father away from our father," White said. "He was a man you could go to about anything going on in your life and he was going to give you the most honest and open response you could ever receive."
It was a relationship that lasted until the day he died.
"Throughout my coaching career over the past few years, he's given me a great deal of advice — the right things to do, the right things to say, all aspects of this business. We were always in touch and he was always ready to give me the advice I needed," White said.
Magee, of course, was closest with running backs.
"He meant a lot to all of our RBs. I spoke to many RBs who had been with him since then and guys who played before him," White said. "A significant relationship he had was with Kay-Jay Harris. Without Coach Magee, there is no Kay-Jay Harris.
"He meant a lot to a lot of young men and a lot of families."
Harris, of course, didn't just set the Mountaineers' single-game rushing record when he rushed for 337 yards against East Carolina, a record since broken by Tavon Austin, who rushed for 344. yards against Oklahoma.
But think about it… Magee coached Harris, Avon Cobourne, WVU's all-time leader in rushing yards; Quincy Wilson, Noel Devine and, of course, Steve Slaton.
Follow @bhertzel on Twitter