Will it rain on the opening day of the Royals?
I'm not feeling great today…so I'm going to take a few sick days and hope to get back into the game on Friday…I guess that means I can watch the game tomorrow…and kind of be happy to do it to be under a blanket at home. It looks quite chilly there…and with clouds and gusty winds expected through Friday…the early spring weather is a lock for the area.
The good news is that temperatures will really climb later this weekend… and 80° weather is likely early next week before another chill later in the week it seems.
Oh and the wind…very windy…starting today…and except for Saturday…pretty much every day for a week…very windy. The start of next week will feature a more southerly flow which means allergies are building up in some people as we get tree pollen blowing into the area from the south and those popping up in our area now and during the weekend.
+++++++++++++++++++++++++++++++++++++++++++++++++++++ ++++
Forecast:
Today: Sunny this morning then partly cloudy this afternoon. Windy and seasonal with highs around 60°. I also can't rule out a secluded shower later today.
This evening: Clearance to cold clear skies with lows in the upper 30s
Tomorrow: A few brief rays of sunshine in the morning, then becoming cloudy and breezy again for most of the day. Temperatures in the range of 45-50° before the clouds arrive in the region can then drop a few degrees. Maybe an isolated dusting/shower or two too
Friday: Release at the end of the afternoon. Remain breezy with highs in the 45-50° range.
+++++++++++++++++++++++++++++++++++++++++++++++++++++ +++++
Discussion:
Things got interesting for about 30 minutes or so last night when a thunderstorm moved east from the subway. It began to exhibit spinning characteristics…and I was watching it closely on radar as it moved through areas south of I-70 east of Johnson Co, MO and Pettis Co MO. The NWS decided to pull the trigger and issue a tornado warning.
I got this photo from Cynthia Tallman out in southwest Houstonia.
There was definitely a lowering of clouds with probable wall cloud development.
I told the team to prepare in case we needed to get into the lineup… and so we waited. Sure enough, at 7:10 a.m., the NWS issued a tornado warning. It was for the same storm that was moving rapidly out of the immediate observation area. So I stayed on the air until the storm rolled through Cooper County.
It never produced a tornado…but it certainly had that look for a while to some extent on the radar. He ended up producing a 70-80 MPH wind damage report at Pilot Grove, MO in Cooper County and high wind reports near Lamine, MO.
Check out this shot of Matthew Smith near Hughesville, MO
He said he was trying to produce but just couldn't get to his knowledge.
Today the threat of severe weather will once again be in the southeastern part of the country.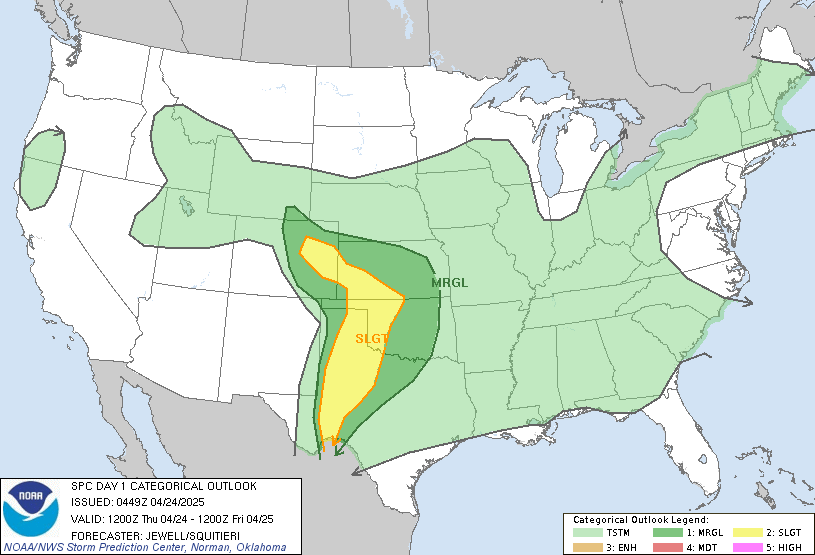 For the metro, we just had rain with a few brief showers. We ended up with about 1/4″ or more of that rain… some maybe a little more.
This was triggered by a cold front that passed last night… so instead of the low 70s like yesterday, today will be in the low 60s or near 60s.
We are enjoying mostly sunny skies at the moment…but because the air aloft is cold…as soon as we enter the 60° range…clouds should develop and increase their coverage…with this little chance of downpour.
There is actually a powerful and deep surface cyclone in the upper Midwest…
This storm is in no rush to move…as ​​a result and because various disturbances will occur on the western side of the storm system…moisture will wrap to the south and overtake the region at various times, with most of it coming tomorrow . morning it appears.
Once that moisture arrives…it will likely stick around through Friday afternoon. Add winds over 30 MPH…and temps in the 40s…not a good combination for hanging out tailgating or being at the game. Oh yes… there may also be some spitting and showering!
Meanwhile, in the western United States…record heat is likely.
As the storm moves away on Friday, the clearing line will expand into the area later in the day or early evening. Another day though with highs in the 40's, with temperatures possibly near 50° if the clearing moves east quickly enough.
Saturday is expected to be quiet…then a jet stream realignment takes place early next week with a powerful storm building up and moving out of the NW Pacific and settling in the US Southwest, it appears.
It has that "look"…and strong, severe storms are likely across the Southern Plains and Central Plains. The impact of this on KC remains to be seen, but let's start watching Tuesday for the potential for bad weather. It's possible we'll get the weakest storms with the worst to the west or southwest of the region…but again, that remains to be seen and will have a lot to do with when the storms arrive. .
So next week, at least Tuesday or Wednesday can be very active in the Plains region.
On the other side of the coin…there is this…about a 3 hour drive from KC…
Look at this strange "snow hole" in the northwest of the region.
Have a great day… let's see how I feel tomorrow for a possible blog post.
Jo