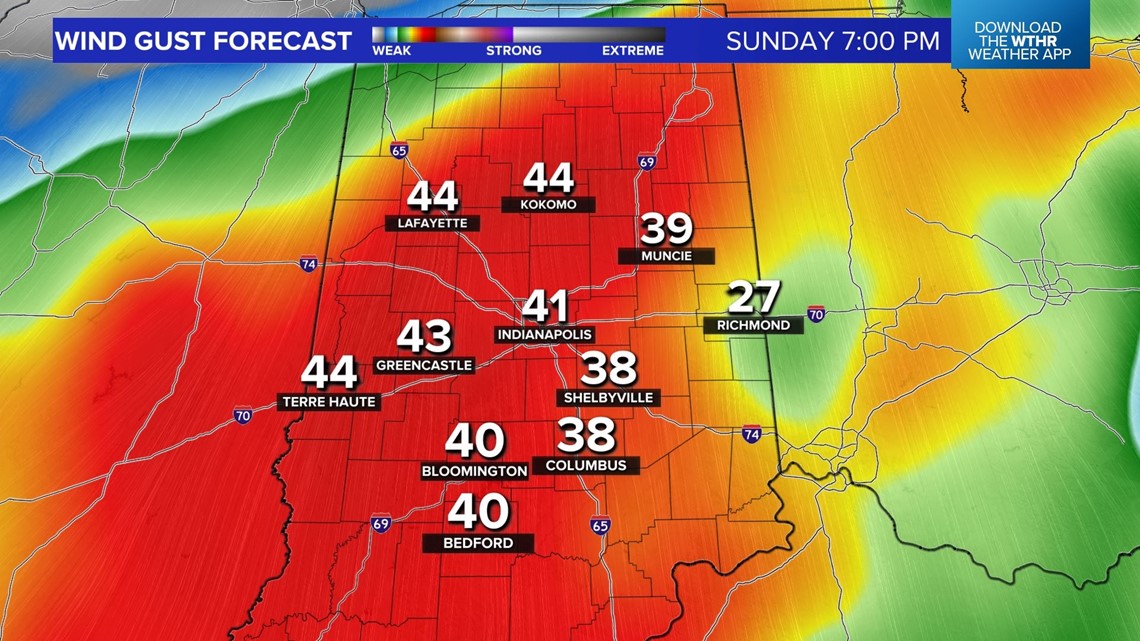 Weather blog: Wet and windy end until Sunday
Rain increases on Sunday afternoon and wind gusts can exceed 40 mph on Sunday evening. There is also a risk of light snow next week.
INDIANAPOLIS – We don't expect a Sunday wash, but you'll definitely want to do some outdoor work or play before the afternoon. A little morning sun is possible, but skies will quickly stretch over central Indiana before noon and showers / drizzle will increase after 2:00 p.m.
Morning temperatures near freezing will take time to warm up in the 40s in the early afternoon due to limited sunshine and evaporative cooling of the air as it gradually becomes humid in response to the approach of the storm system.
Showers will become widespread around 5 p.m. and rain is likely until a cold front passes through the state between 3 a.m. and 5 a.m. early Monday morning. Prior to this frontal passage, it will get rather windy on Sunday evening with potential gusts to over 45mph from around 7pm to midnight. If this were to happen, power outages would be possible.
Thunderous rumbles cannot be ruled out with an increase in atmospheric lift along the front on Sunday evening. Due to the strong south-southwest wind, temperatures warm to the upper 50 degrees / near 60 degrees before dropping rapidly before Monday morning.
Monday will be much colder with a constant north-northwest wind regime and high pressure only in the 1930s. Flurries and / or a few flurries can mingle with the sun to open the week.
Tuesday morning temperatures in the 1920s, teenage / single digit wind chills, then we'll wait for an upper disturbance moving through the Ohio Valley that appears to trigger a spell of light snow Tuesday night through Wednesday .
The snow may be stable enough to accumulate, but at this time we do not anticipate significant accumulation. But there is still the possibility of slick spots on Wednesday morning. Please check for updates.
RELATED: Doppler 13 Weather Blog Live: Heavy Rain & Wind Gusts Arrive Sunday Night
RELATED: What Lit the Sky on Friday Night?