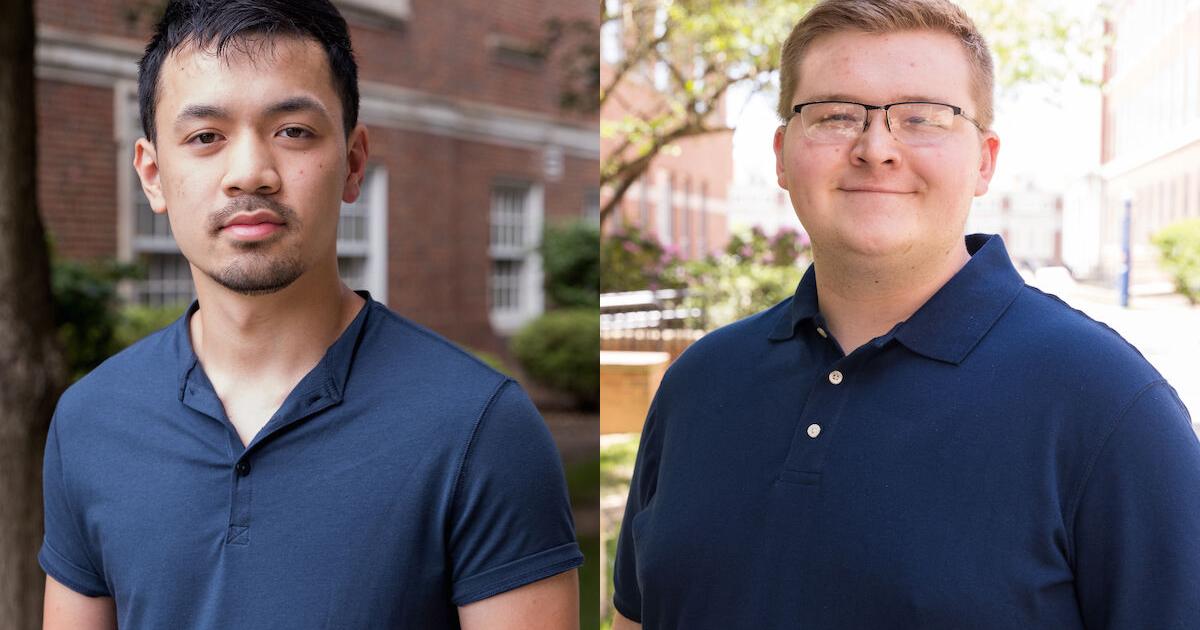 Two WVU undergraduates named Beckman Scholars | Tuesday News
MORGANTOWN — Two West Virginia University undergraduate students will spend the next year conducting funded research to better understand neurodegenerative diseases and inflammatory responses in respiratory disease through the Beckman Scholars Program.
Biochemistry majors Zachary Ellis, from Renick, and Bryan Ho, from Martinsburg, were named to WVU's third and final cohort for the award, which was originally given to the University in 2020. Both are members from the WVU Honors College.
WVU is among the top 12 research universities in the United States selected for the competitive program. Awarded by the Arnold and Mabel Beckman Foundation, the 15-month mentored research experience is for outstanding undergraduate students in chemistry, biological sciences, or interdisciplinary combinations of the two.
Ellis and Ho will receive a stipend of $18,200 for their research and $2,800 for supplies or travel to present at conferences. Their mentor teachers will receive stipends of $5,000.
"Zachary and Bryan are extremely talented student researchers who recognized the importance of the scientific process early in their academic careers," said Amy Hessl, director of the Office of Undergraduate Research. "Participating in the Beckman Scholars program will allow them to deepen their knowledge and skills as well as prepare for rewarding scientific careers."
Zachary Ellis
As a freshman at WVU, Ellis didn't know where he wanted to be in four years — or even beyond — but knew he loved science and wanted to explore undergraduate research opportunities.
His participation in the research apprenticeship program during his first year on campus set Ellis on the path to self-discovery. It also gave him the skills he needed to become a Beckman Fellow.
While exploring mentor and lab options, Ellis found Justin Legleiter, a chemistry professor at Eberly College of Arts and Sciences, and his biophysical chemistry research lab.
"It means biology, physics and chemistry," Ellis said. "I liked all three, so I thought maybe it was a good place to be. I was able to apply my interest in science in ways that I had never really considered, that which allowed me to discover my passion for research.
His initial research project focused on developing techniques and protocols to measure mechanical changes in biological samples and allowed him to transition easily to this new endeavor.
As a Beckman Fellow, Ellis hopes to better understand Huntington's disease by studying the changes seen in Caenorhabditis elegans, microscopic roundworms often used in studies of aging because they exhibit specific mechanical changes as they age.
Huntington's disease is a rare inherited disease that causes the progressive breakdown of nerve cells in the brain. Ellis will compare changes in C. elegans with pathogenic and non-pathogenic Huntington protein fragments.
According to Legleiter, using tiny transparent worms has several advantages, including shorter lifespan, ease of maintenance, and the ability to use fluorescence microscopy.
"The other really cool thing is the model of C. elegans we're using that expresses huntingtin proteins in peripheral tissues, as opposed to just the nervous system," he said. "A lot of model species for Huntington's disease only exhibit it in neurons, but we're able to see how peripheral tissues mutate huntingtin, which isn't really studied much. It gives more insight. "a sense of novelty to research. It could also expand our knowledge of the impact of huntingtin aggregation on peripheral systems."
Ultimately, Ellis hopes her research can provide a building block for identifying more treatment options.
"Currently, there is no cure for Huntington's disease. There are treatment options, but they are incredibly limited," he said. "If the work we're doing can contribute to the overarching problem there, that's really what we're trying to achieve."
Bryan Ho
As a philosophy of life, Ho believes that all he wants is "on the other side of fear" and it takes a number of "uncomfortable yeses" to achieve his goals.
He remembers an advanced chemistry lab during his freshman year where he accidentally broke an unusually large number of beakers and had trouble following all the protocols.
"I was interested in research and didn't want to do something in a traditional lab. I thought I was going to smash it all again," he said. "I had no experience when I started. It was the biggest learning curve.
Now, as a senior with more confidence and research experience, Ho has said "yes" to a program that will fund a computer research project that could lead to the discovery of new, affordable drugs to reduce inflammatory responses in people. people with respiratory diseases such as asthma and chronic obstructive pulmonary disease.
Alongside Blake Mertz, associate professor of chemistry, he is working to characterize the structure-function relationship of the platelet activating factor receptor, a protein responsible for the primary inflammatory response in many respiratory diseases.
Working with a library of 50,000 ligands – small molecules that bind irreversibly to the target protein – the researchers will use molecular docking and molecular dynamics simulations to observe how the platelet activating factor receptor responds to each molecule.
The computational approach will help researchers map the structure-function relationship as well as identify candidates for drug development.
"To experimentally screen a database of ligands of this size would take an enormous amount of time and effort," Mertz said. "By tackling the problem with computational approaches, we can reduce the time to identify viable ligands to around a year. This not only makes it an excellent research project, but one that fits well with the timeline of the Beckman Scholars program.