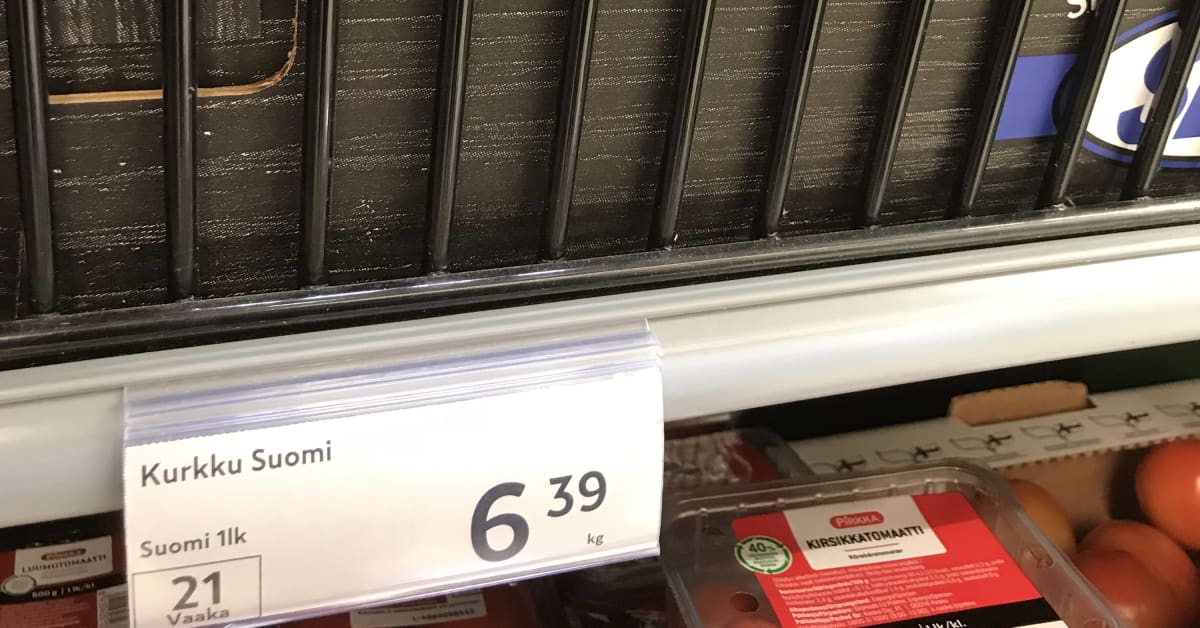 Tuesday's Newspapers: Niinistö Analysis, Swedish Mortgages, Cucumber Cost | News
The price of food and accommodation is on the rise.
President of Finland Sauli Niinisto has recently been in the international media, and it is a source of pride for many Finns.
Ilta-Sanomat has a handy roundup (siirryt toiseen palveluun) interviews with Niinistö in recent days, describing his position as one of the few Western leaders to speak regularly with the Russian leader Vladimir Poutine.
The Sunday Times reported that only the former German chancellor Angela Merkel had more encounters with Putin than Niinistö.
The current crisis is, of course, why Niinistö is in demand. ISIS asks a professor of world politics Teivo Teivainen for his analysis of Niinistö's media appearances.
"Niinistö was skilled in creating his relationship with Russia, and I say that as someone who doesn't always just praise Niinistö," Teivainen said. "He has maintained a relatively good channel of discussion with Putin – compared to other Western leaders – without giving the impression that he has, in the old-fashioned vernacular, been 'Finlandized', without the impression that he would be Putin's poodle."
Teivainen said that the French president's mention of "Finlandization" Emmanuel Macron heightened interest in Finnish diplomacy, and Niinistö's role has been to explain this as well as provide insight into Putin.
The term refers to the Cold War period when Finland remained a democracy, but was under constant pressure from the Soviet Union and had to meet Soviet demands in politics, economics and media.
Swedish loans last longer
Coverage of expected interest rate increases continues at Helsingin Sanomat, with another look at a topic close to the hearts of many people: mortgages.
This time the newspaper asks (siirryt toiseen palveluun) why Finland's home loans are not like Sweden's. Across the western border, it seems, interest-only mortgages and extremely long loan terms are very common.
The money Swedes save on loan repayments, they tend to invest in stocks or spend on consumption.
In Finland, on the other hand, people tend to have shorter loan terms and repay their home loans diligently. It's a cultural difference, but HS reports that Finland is a bit more like Sweden.
There are more loans of 35 years or more in Finland, and people are starting to build up their own buffers through investments and savings, rather than making their mortgage the main financial instrument they use.
There is still a long way to go before Finns start adopting the attitude of the Swedish regulator Erik Thedeanwho told HS four years ago that "there is no sense in dying without debt".
The idea of ​​having unpaid liabilities (and not feeling guilty about the prospect) remains a bit shocking to Finns, and HS made sure to bring up the interview.
food cost
Joensuu Karjalainen newspaper looks at the cost of food (siirryt toiseen palveluun), which has risen sharply in recent months. The newspaper was particularly distressed by the rise in cucumber prices to six euros a kilo, a level that makes the basic salad seem a bit of a luxury at present.
The cost of producing creeping vine plants in Finland is heavily impacted by the price of electricity, which is needed for heating and light during the dark Finnish winter.
Fertilizer and packaging costs have also increased, making the cost of fresh salads much higher than in a normal winter.
Statistics from the Institute of Natural Resources of Finland suggest that food prices are expected to increase by 2-2.5% this year.
The Finnish Greenhouse Growers Association says there may be no relief as the days get longer, as growers reduced their lighting in December in response to rising electricity prices. This will have a ripple effect on production in the future.
And for now at least, imported salad greens are unlikely to help alleviate the cost – in 2020 the amount of foreign cucumbers sold in Finland was a third of the 2014 figure.
This is not negative for everyone.
"It is a positive phenomenon that foreign cucumbers are not really found in stores anymore," Niina Kangas of the producers' association, says Karjalainen.