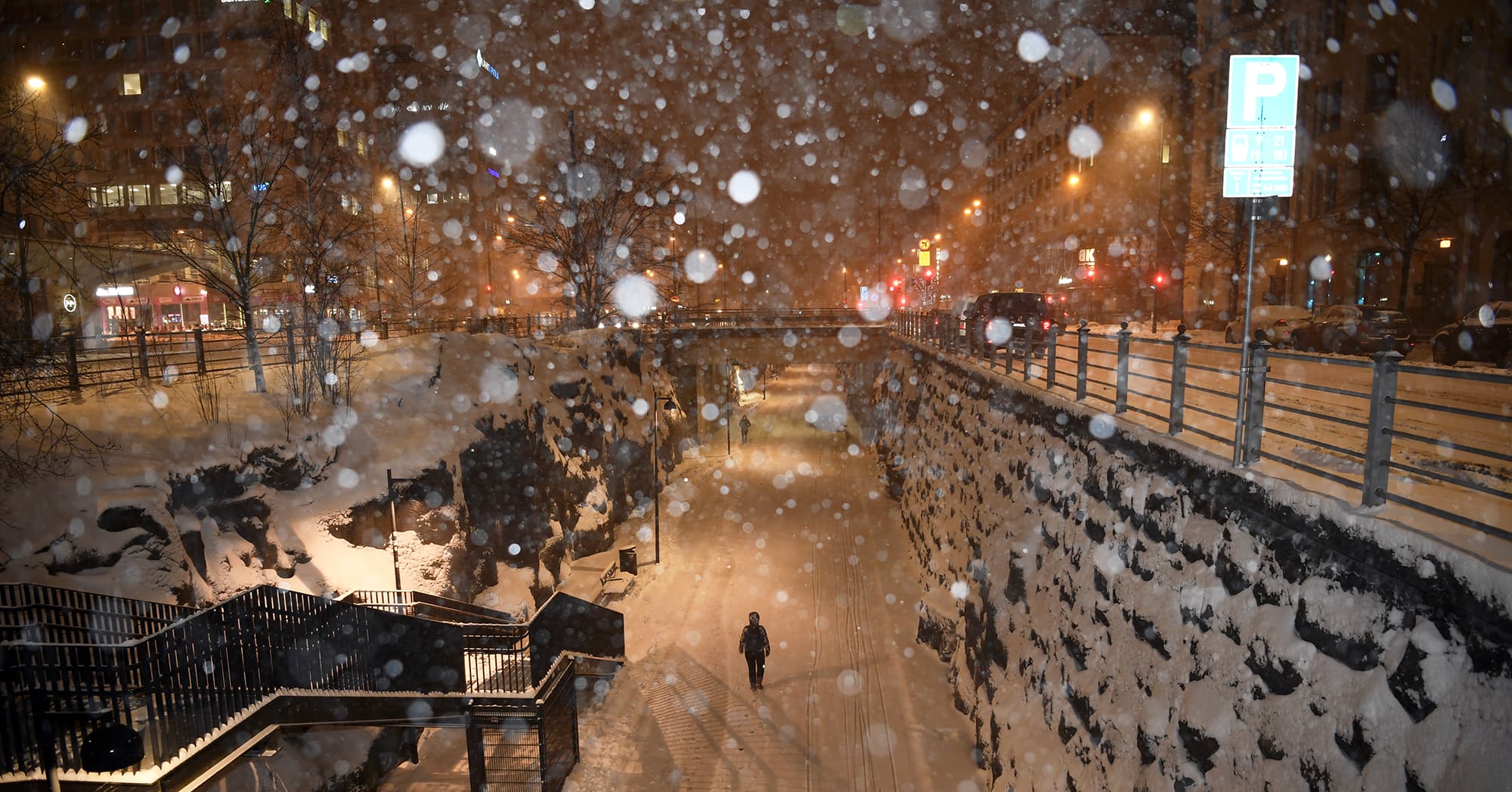 Tuesday's Newspapers: Blizzard Strikes, Corona Variant Problems, Enter Flying Squirrels | News
Emergency services are urging the public to stay home as heavy snow and high winds hit southern and central Finland.
A winter storm that hit the south and center of the country overnight caused heavy snowfall, snowdrifts and dangerous driving conditions.
Meteorologist Hannu valta of the Finnish Meteorological Institute told the daily Iltalehti (siirryt toiseen palveluun)expect 30-40 centimeters of fresh snow, in some places up to half a meter of accumulation with even higher snowdrifts.
Valta stressed that snow removal equipment on roads is unlikely to keep pace with snowfall.
Head of Turku Regional Rescue Service Mika Viljanen told Ilta-Sanomat that if possible, the public should just stay off the roads Tuesday morning. The Helsinki emergency services have made a similar appeal.
Snow removal equipment is concentrated on the main roads. Secondary roads are likely to be impassable. In addition, ferry traffic in coastal areas and in the archipelago will likely be at a standstill.
Emergency services are also prepared for power outages. Heavy snowfall is likely to chop down trees and cut power lines in some areas.
As the blizzard affects central and southern regions, Finnish Lapland is expected to experience near-record cold temperatures, with the thermometer dropping to -35C in Rovaniemi and -40C or more in some areas, Oulu reports. Kaleva (siirryt toiseen palveluun). The lowest temperatures are forecast for Wednesday evening, or the early hours of Thursday.
Coronavirus variant
So far, 49 people in Finland have been diagnosed with coronavirus infections caused by newer, faster-spreading viral variants. THL reported 29 new cases on Monday in addition to the previous 20.
Almost all of these infections have been found in travelers who came to Finland from abroad or in people who had been in close contact with them.
Most cases are of the variant first detected in the UK and only two are of the South African type.
The sources of three cases are unknown.
"It cannot be said that these are contacts related to tourism. This is not very surprising because it is not always possible to understand all the contacts. However, there can be indirect tourist contacts in background", Mika salminen, director of health security at THL, told Helsingin Sanomat.
As for what approach THL might take to these new variants, Salminen said that so far there has been no specific information on what is worth doing and what is not.
More difficult times for tourism in Lapland
The newspaper writes that it now appears that the disappearance of foreign tourists could reduce the annual revenues of many businesses in the region by up to 90%.
Although there were more domestic tourists this winter than in previous years, the increase was not enough to make up for the loss of foreign visitors.
The accommodation and program services sectors have been particularly affected, but the situation is also indirectly affecting the retail sector and support services such as laundries and the transport sector.
After years of record growth, many companies have built up a financial reserve that has helped them survive. However, the long boom has also meant big investments and it looks like the tourism industry has now fallen into the wall.
According to Maaseudun Tulevaisuus, foreign tour operators are actually planning and booking vacation packages for next winter in Lapland.
Regional tourism industry groups are now urging the government to define the conditions under which international tourism trade can be conducted in the long term.
Squirrels to the rescue?
The city of Helsinki has decided to evict the operators of the small Malmi airport in the north of the city to make way for a large housing project.
Opposition to the plan was shot down by the courts, but it is not impossible that some small rodents could turn the tide.
Flying squirrels are an endangered species and their habitats are protected by law. The local Helsinki daily Helsingin Uutiset (siirryt toiseen palveluun)reports that a group called the "Association of Friends of Malmi Airport" said they found evidence of flying squirrels in the woods around the airport – sightings, nests and droppings – indicating a larger and more widespread population than previously thought.
In previous studies of the city, no significant concentration of flying squirrels was observed in the area.
A report on this latest survey has now been submitted to the Uusimaa Center for Economic Development, Transport and Environment, the City of Helsinki and the Finnish Association for Nature Conservation.