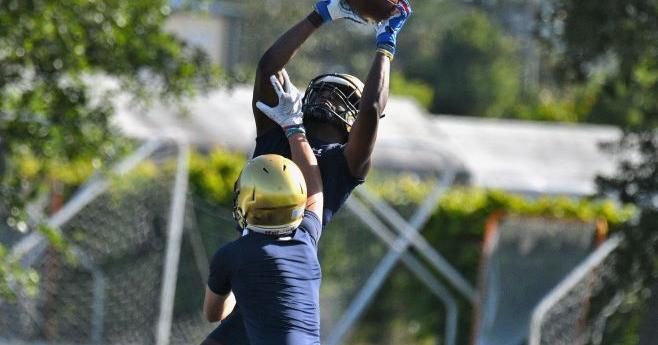 Tigers delighted to return to work | Viera Sports Blog
After the most successful season in program history, it's no wonder the Holy Trinity football team is eager to get back to work.
"I hope that's how they feel," Tigers coach Nate Hooks Jr. said. regional semi-finals.
"Some teams don't even make the playoffs. We have made the regional semi-finals four years in a row.
Holy Trinity, which went 10-2 last season despite playing with a roster of mostly freshmen and eighth-graders, went through its second day of spring training on Tuesday.
"It's been impressive," Hooks said. "We installed new items both days and they picked them up."
You can expect the Tigers to show what they've been working on when they host Satellite in their spring game on May 19 in a game scheduled for 6 p.m.
Hooks expects the Scorpions to bring a lot of fans to Holy Trinity for this one, which should make for a fun night.
"We look forward to a team like this, with an audience like this, coming to HT," he said. "The atmosphere is probably going to be amazing."
So far, Holy Trinity has had 15 players in training, with another 12 still involved in spring sports. They are all expected in time for the spring game.
Although the Tigers may be missing a few key players at the moment, they seem to be doing a good job so far.
"Today was good, good energy," sophomore Jay Latson said. "I'm happy to be back with my team."
Latson, who spent most of his first season at wide receiver, is expected to move to Holy Trinity's starting quarterback with the senior graduation of Ty Englehart.
Once again, the Tigers should have plenty of offensive firepower led by junior DayDay Farmer and sophomore Nicky Teeter.
Latson said he's been working hard to refine his game.
"I worked this offseason on my strength, arm power, accuracy and footwork," he said.
Having so much success as a young team last year certainly gave the players confidence, but they're doing their best to keep their feet on the ground, Latson said, by "being humble, staying ready for the season".
When asked what he wants to accomplish this spring, Hooks said he wants to see his team grow from last year's playing experience as the Tigers look to at least get to the regional final next season.
"The goal is to see if these ninth graders have matured after their first semester of high school football," Hooks said. "We'll see what happens. I'd like to see how much these ninth graders have matured.