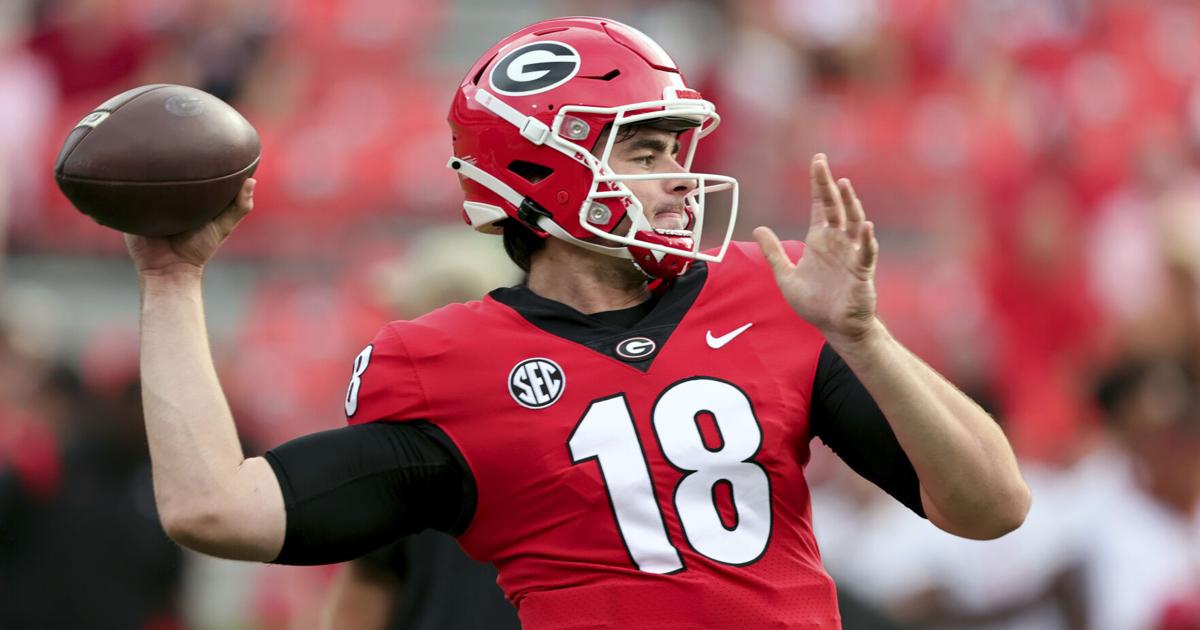 Still no quarterback named for WVU's next Backyard Brawl | WVU Mountaineers
MORGANTOWN – The biggest news to come out of West Virginia football coach Neal Brown's press conference on Monday was that there was no news to report on who his starting quarterback would be in the 105th renewal. from the Backyard Brawl, just 10 days away in Pittsburgh.
The gathered media expected to hear that Brown had chosen veteran JT Daniels, the former 5-star quarterback who started as a freshman at USC and also at Georgia before transferring to the WVU this year.
There was what seemed like a huge void at the job with Jarrett Doege having been traded and with no real experience ready to stop behind him in as crucial a season as Brown will ever face as a coach.
It was a no-brainer and it almost certainly still is, but Brown wasn't about to say that Daniels won the job over last year's replacement Garret Greene, this freshman phenom. year Nicco Marchiol and last year's freshman rookie Will "Goose" Crowder.
Brown wasn't ready to announce anything.
"I'm not really going to announce anything today," Brown said.
When he said that, it was like the air left the room.
Was he playing games with Pitt? Almost certainly not. It's not like they haven't spent their time preparing for Daniels.
"I'm not trying to be shy about it," Brown said, sounding quite coy. "I will announce it before the game."
He better, if not to the media, if not to the fans, if not to Pitt, at least to his quarterback room so that someone knows how to get away with the offense.
Of course, the team already knows who it will be…not because he said so but because he didn't have to tell them, like he said on media day. of the Big East.
"Quarterback competitions, when they're won, it's obvious," he said. "Your team knows it. It's not like you have to post an announcement on social media or stand in front of the team and say, 'That's our starter'. When a quarterback wins this competition, it is very clear. It is clear who the team believes in, who they are productive for. Everyone wants to talk about it but it's really the easiest to choose.
Still, he insists it hasn't been that easy.
"There was no final decision," he said.
From there, Greg Hunter of the Gold and Blue News attempted to enter the back door, asking him what he had seen in all three quarterbacks.
Brown was more than willing to get into it, but he started with Marchiol, not Daniels.
Was there a clue in there? Is Brown really considering starting the southpaw in Arizona? Certainly, he spoke well of Marchiol.
"Speaking of Nicco first, I really like his progression from spring to fall camp," Brown said. "What a lot of true first-year quarterbacks don't get is a lot of rep like a game against first defense. He has a bunch. He had a bunch of them in the spring. He had a bunch of them at fall camp.
Again, any clue? Maybe not, because in practice it's normally attack #2 against defense #1. Still, Marchiol made progress against the No.1 defence.
"His progress is good to see," Brown said. "The knowledge he's shown of attack, of what the defense is trying to do, you can see the game is slowing down for him."
He then went to Greene.
"He has matured. He needs to keep working on his decision-making, but from a punctuality standpoint, the throws he's made have been flashed. And he got faster.
It's important because Greene offers a running alternative to the offense.
"On the GPS he ran some of the fastest times in our camp," Brown said.
He eventually got to Daniels, but it wasn't like he won her heart and soul, let alone the job.
"He has experience, he is very mature. We talk about his intelligence," Brown said, calling him "the smartest quarterback we've ever had."
"He has improved. You know, summer training is so different when it comes to top speed. You don't throw against a defense. He just had these 14 or 15 practices to cut his time and you can see it improving," Brown said.
Brown said he feels the future is in good hands with his young quarterbacks, but for him, after a 6-7 season and a nasty loss to Minnesota to end his third year at WVU, he needs to know that his own future is now.
It's a huge season for him and the opener, fair or not, is the most important game he will play all season.
With that in mind, he needs what Daniels displays as his greatest asset – experience in the big games.
Brown noted that Greene played Oklahoma last year in a nationally televised game on Saturday and that Marchiol had a high showdown against one of the top programs in the country, but, folks, that's not nothing like playing your rival Backyard Brawl in a sold-out 67,000-fan stadium at an NFL stadium down the road.
Brown admitted that when trying to decide the starter for any position among young players they do all they can to put pressure on, but admitted 'you can't mimic that in training' .
You must have been there and Daniels threw for over 300 yards while starting out as a true USC freshman in rivalry situations against Notre Dame and UCLA while passing for 300 yards against Texas.
Then, he threw over 400 yards over Georgia after coming back from one of several career-derailing injuries and pulled off the knockout blow by beating Clemson at a neutral site.
OK, that wasn't one of his best outings, throwing for just 135 yards and only putting up 10 points on the board, but he completed 22 of 30 passes in that atmosphere.
Because of this, Brown really doesn't have much choice but to go with Daniels if he's healthy and, he admitted, they're almost ready to make a decision on quarterback. it's hard to imagine Brown risking losing his first Backyard Brawl meeting with anyone but Daniels at quarterback.