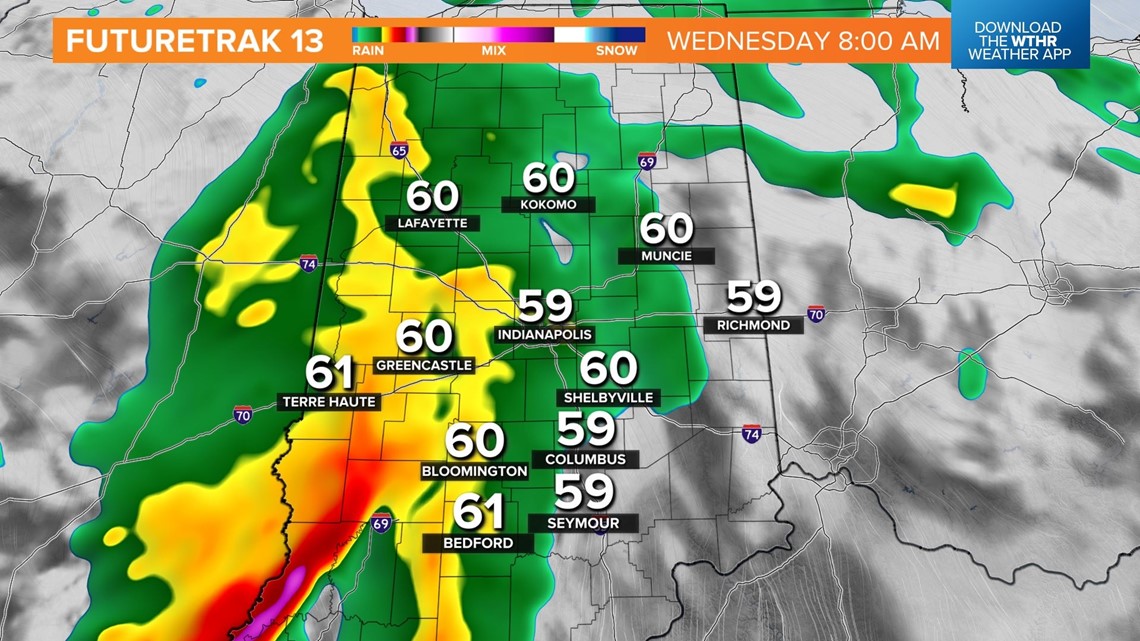 Live Doppler 13 Monday Weather Blog: Severe Clear Through Wednesday
Indiana will see plenty of sunshine today and Tuesday before more heavy rains and potentially severe thunderstorms emerge.
INDIANAPOLIS – For now, it's "extremely clear" with no severe weather threat to central Indiana. Along with that blue sky comes a nice feeling in the air with dew points in the 40s/50s bringing the heavy meter down to a comfortable level.
Monday noon temperatures are about 10° colder than the past 24 hours. This puts the afternoon in the 75°-78° range. Scattered cumulus clouds in good weather are developing and there is little chance of splashes or sporadic and rapid showers breaking out. But 90-95% of the WTHR viewing area won't see a drop of rain until Wednesday morning.
You can keep the AC off overnight, as lows drop to pleasantly cool levels in the lower/mid 50s.
The dry air sets the stage for a pleasant evening which ends nicely with the return of the Indians from Indianapolis. Their final homestand begins Tuesday at The Vic with a 6:35 p.m. first pitch against the Toledo Mudhens with playing temperatures in the mid-70s. It's going to be a perfect night at the ballpark.
Tuesday will be just as enjoyable and a perfect day for the Indy 500 opening practice at IMS. Doors open at 8am with temps in the 50s and close at 6pm near 80s.
Central Indiana remains rainless until late Tuesday night into Wednesday morning, when the remnants of a storm complex bring widespread rains to start the day of the bump. How quickly this feature disappears and whether or not we will have sun / heating / destabilization in the late afternoon is uncertain.
Some models are bullish on the atmosphere becoming conducive to severe storms, especially over the southern half of the state. Thus, this region is in a risk level of level 1 (out of 5). Check back for updates and expect at least several rounds of heavy rain/thunderstorms Wednesday through Thursday morning.
Friday still looks like the hottest day of the week with highs reaching near 90° as a heavy southwesterly wind emerges. The atmosphere is expected to be very unstable on Friday afternoon, but atmospheric lift for widespread and potentially severe storms appears to be lacking as an approaching cold front will be more concentrated in Illinois.
This front brings widespread rain/thunderstorms from Friday evening to Saturday morning. At this time we expect the rain to lessen around noon Saturday and clear skies. But it should be noted that there is at least a much slower and more volatile solution for Saturday afternoon's heavy storms. We'll iron out the details in the coming days, but at a minimum there will be time to dry out the track for Indy 500 qualifying on Saturday afternoon.
Sunday promises to be unusually cool despite mostly sunny skies with highs in the 60s.