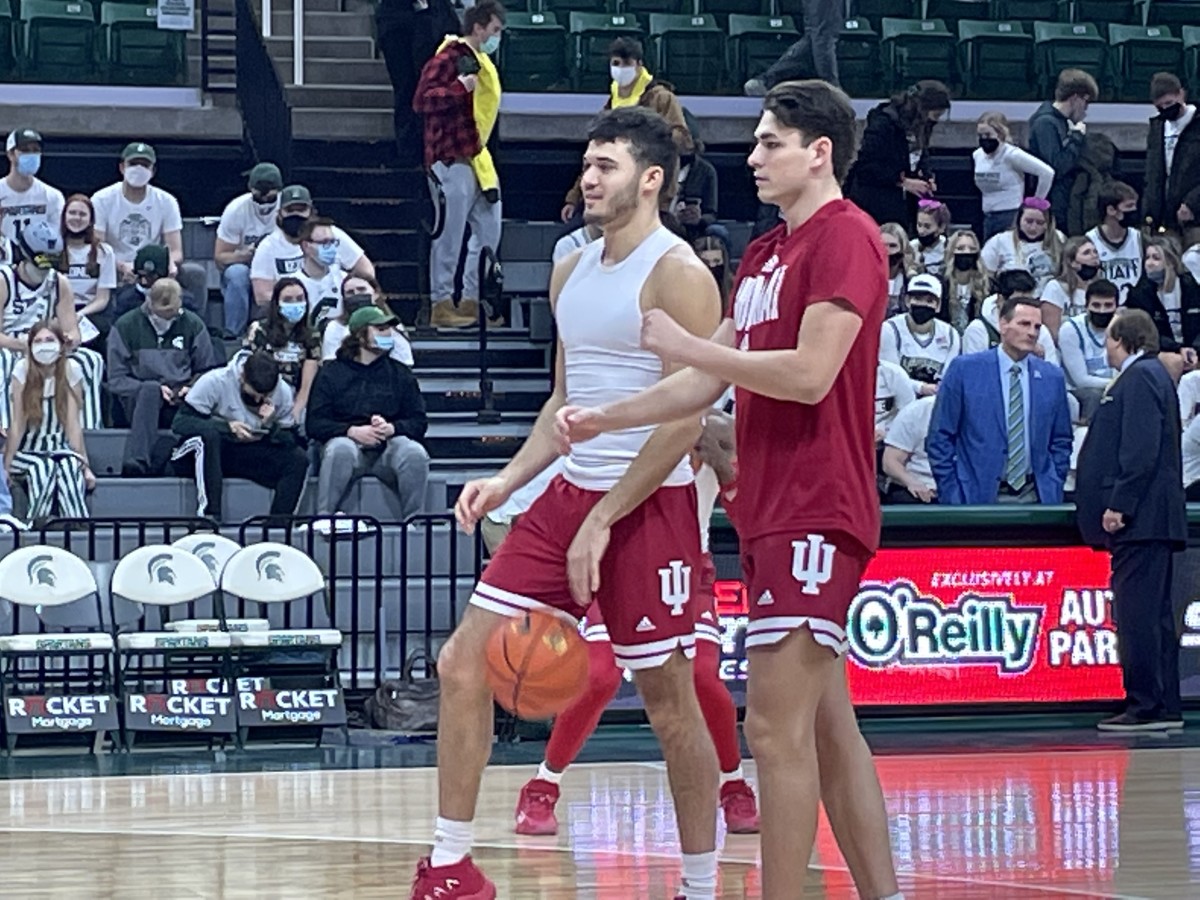 LIVE BLOG: Follow Indiana's game at Michigan State in real time
EAST LANSING, Mich. — Welcome to the Breslin Center, where Indiana and Michigan State are desperate to end two straight losing streaks on Saturday. So it's safe to assume this should be a hard-fought Big Ten game in mid-February.
Welcome to our live blog, where we will keep you up to date with all the news and views of the game in real time. Here is the view of today's desktop:
The latest stuff is up top, so keep refreshing and we'll keep you up to date with everything that's happening here. We will also add opinions and highlights as they become available.
The game starts at 3:30 p.m. ET and is on FOX today. Here are all the pre-game details on how to watch. CLICK HERE
Enjoy. the game!
5:53 p.m. — Michigan State students began chanting "NIT" behind the Indiana bench. They also handed it over to Parker Stewart with a "Drop the whole team" chant.
5:50 p.m. — The Spartans go on the offensive. rebound and Tyson Walker hits three more. Michigan State point guards killed Indiana today. Walker has nine points and Hoggard left with 14.
5:48 p.m. – Mike Woodson is still yelping at the officials. He's as angry as I've seen him all year with those men in stripes. AJ Hoggard gets his second technique for MSU, and he's ejected. Tamar Bates makes both free throws to make it 68-57,
5:43 p.m. — We've reached the final media timeout of the game, and Michigan State leads by 13, up 68-55 now with 4:00 to go. Nice line of statistics for Race Thompson, 13 points and 14 rebounds.
5:40 p.m. – Free throws so far: Michigan State 23 for 25 (92%). Indiana 12 for 20 (60%)
5:35 p.m. – Indiana "shooters" so far today: Parker Stewart 1-8, Miller Kopp 1-3, Trey Galloway 0-for-6. Michigan State now leads 62-51 with 5:43 to go.
5:28 p.m. – Indiana in the bonus at 9:30 p.m. It might not always be a good thing, but they've made six free throws in a row now. Xavier Johnson returns for Indiana with four fouls. 7:37 am left.
5:21 p.m. – Trayce Jackson-Davis dunked and was fouled. We came into the Under-12 timeout with Michigan State leading 54-46. Free throw pending. He does it, then does two more on the next trip. 54-49.
5:20 p.m. – Tyson Walker hits a three for MSU after lots of good ball movement, and the lead is again 10 points, at 54-44, after getting a steal and scoring. 12:12 p.m. remains.
5:17 p.m. — These free throw issues are getting old with Indiana. They are 5 for 12 from the line.
5:14 p.m. – Xavier Johnson is called for a tricky foul after being hammered from the attacking side. It's been four now. Mike Woodson goes crazy and gets a technical foul. Trey Galloway gets back to the point.
5:07 p.m. – Just before the first media timeout, Indiana's Xavier Johnson recovers his third foul on an AJ Hoggard drive. He scores to put MSU up 42-41, with a free throw to come. Johnson stays in the game out of timeout. Something to watch.
5:02 p.m. — And just like that, Indiana is moving forward. Xavier Johnson scores on a drive, then Race Thompson gets a steal and runs down the field. Indiana ahead 38-37, and Tom Izzo calls a timeout. 5:20 p.m. remains. A well deserved 8-0 run.
4:58 p.m. – Xavier Johnson gives the Hoosiers a good start with a bucket, then Race Thompson dunks on a nice pass from Trayce Jackson-Davis. Michigan State leads 37-34 now.
MORE STATS: Trey Galloway's second start didn't go as well as his first. He was 0-for-3 from the field, including two missed three-pointers, and just 1-for-3 from the line, missing the front of a one-on-one.
STATS: Trayce Jackson-Davis leads Indiana with eight points, but is just 3 for 9 in shooting. Freshman Tamar Bates, who was one of five players suspended Tuesday, had seven points off the bench on 3-for-6 shooting.
HALFTIME – We're at the turn and Michigan State leads 37-30. Indiana did a good job of getting back into the game, but the Spartans then scored on four straight possessions. Indiana just 31.4 percent from the field and a pathetic 4-for-10 from the foul line.
4:33 p.m. – What was a double fault has been changed after review, and it turns into a Flagrant-1 foul on Indiana's Jordan Geronimo instead. Michigan State fires both free throws to take its biggest lead of the game at 36-29. Michael Durr and Trayce Jackson-Davis on the floor at the same time now.
4:26 p.m. – Trey Galloway badly misses the front of a one-on-one, but the Hoosiers get the rebound and Tamar Bates hits a three-pointer to tie it at 27-27. Then he strikes another blow.
4:23 p.m. – And right after I say that, Parker Stewart hits a three-pointer, then shoots an offensive foul on the other end. It's now 25-24 Michigan State, with 3:21 to go. Lots of woofing going on here.
4:20 p.m. – An intentional foul is called on Michigan State for stopping a breakaway. Parker Stewart goes to the line – and missed both free throws. His head is clearly not in this game. He also missed both three-point shots and is now missing a fadeaway.
4:16 p.m. — A Trayce Jackson-Davis floater bounces — it's 2-for-6 so far — and Parker Stewart throws an air ball. Trayce scores on the next trip.
4:13 p.m. – Xavier Johnson commits his second foul and heads for the bench. Trey Galloway is back. Johnson is 1 for 3 so far, with three assists.
4:10 p.m. — Michigan State always brings it in defensively, and Indiana is struggling to get things done. The Hoosiers are only shooting 6 for 20 (30%) and they had to force a lot of bad shots as the shot clock expired. MSU leads 21-15 with 7:31 to go.
4:04 p.m. – Trayce Jackson-Davis returns to Indiana. Xavier Johnson rests, so Trey Galloway moves to point guard.
4:00 p.m. – Second media timeout and Michigan State leads 12-11. As is often the case, Indiana's offense is a bit stagnant as the starters exit.
3:55 p.m. — A bit of a scramble after that last foul, so Indiana's Miller Kopp and Michigan State guard AJ Hoggard are both penalized with technical fouls. Parker Stewart, Tamar Bates and Jordan Geronimo enter the game for Indiana after timeout.
3:50 p.m. — We're in the first media timeout and, as expected, it's intense here at the Breslin Center. We're tied 9-9 with 2:37 to go. Clean play so far, only one total turnover, ball dropped out of bounds by Indiana's Miller Kopp.
3:40 p.m. – Trayce Jackson-Davis puts Indiana on the board first with a nice right-hand move, then Xavier Johnson and Miller Kopp follow with three points, a much-needed boost for the Hoosiers, who haven't been good by far lately.
3:20 p.m. — Trey Galloway remains in the starting lineup for Indiana, with Parker Stewart sitting in to start. Here is the full story of the line-up changes. CLICK HERE
3:10 p.m. — Michigan State opened as a 4-point favorite this morning, but the line has slipped a bit with more money coming for the Spartans. The line is now 4.5 on most sites, including SISportsbook.com. There's the full recap of what both teams have done against numbers all season. CLICK HERE
3:05 p.m. — Sophomore guard Trey Galloway got his first start of the year at point guard on Tuesday and played well, tying his career high with 13 points and five rebounds in 37 minutes before committing a foul. It will be interesting to see if he does it again today.
3 p.m. — Trayce Jackson Davis had 13 points against Indiana on Saturday and now sits at 1,353 career points, good for 27th all-time. He passed Verdell Jones on Tuesday and Uwe Blab is 26th with 1,357 points. For the full list of 1,000 point scorers, CLICK HERE
2:55 p.m. — Indiana is first in the Big Ten and sixth in the nation in defense in field goal percentage (37.4%). The Hoosiers also lead the league in scoring defense (63.3) overall and in conference (64.2). IU is second in the league in blocked shots per game (5.5).
2:50 p.m. — Former Indiana star and current assistant coach Dane Fife spent 11 years as an assistant to Michigan State coach Tom Izzo. It's his first trip to East Lansing since returning to Bloomington in the spring. He is responsible for the scouting report for this year. Here is the story about it. CLICK HERE