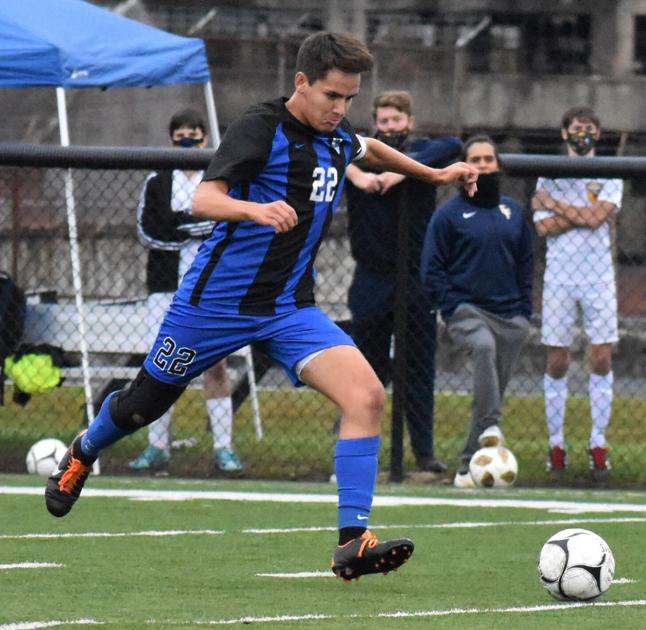 Fairmont Senior Star Trio to Headline Five County Selections | Tuesday News
FAIRMONT – As then second-year forward Bubby Towns scored a golden goal that gave the Fairmont senior men's soccer team a 2-1 victory over Robert C. Byrd in the 2019 Class AA-A State Title game, the Polar Bears began to prepare. for a possible consecutive race in 2020.
They were full of returning talent, had a trio of top stars in Towns and the Branch, Isaac and Jonas, and perhaps, more importantly, had an irresistible collective vision to mount a repeated quest.
"They figured out what it took to get there last year, and there was never any doubts," said Fairmont senior coach Darrin Paul. "I don't mean to be arrogant it was just that these guys had in mind that they were going to repeat no matter what."
When the Polar Bears finally entered the field for the start of the 2020 season last fall, they fulfilled their mission, recording an overall record of 19-3 and repeating themselves as Class AA- State Champions. A with a return of 3-2. victory over Charleston Catholic in the title match. The victory gave the Fairmont Senior program its third state title since 2015 and marked the first class AA-A state champion since Charleston Catholic won four straight titles from 2009-12.
"Honestly, I think it was the drive and the leadership of our players," said Paul. "These three specifically to Jonas, Isaac and Bubby, they've really improved their game over the season. They knew what they wanted to do and they weren't going to let anyone stop them.
This trio of Towns, Jonas Branch and Isaac Branch, has been headlining the Polar Bears title chase throughout the season, and now they headline the first class boys' team. AA-A 2020, as selected by the West Virginia Sports Writers Association. Jonas Branch, who was nominated for Gatorade National Boys Soccer Player of the Year, has been named captain of the All-State Class AA-A First Team after scoring 30 goals and 32 assists this season since his season. midfield position. Towns, meanwhile, led the Polar Bears with 44 goals, and Isaac Branch recorded 10 goals and eight assists from his center-back position.
East Fairmont's Lance Cerullo also represented Marion County in the All-State First Team as a utility player after leading the Bees with 22 goals and four assists, to finish with 100 career-wide goals. Fairmont Senior second-year forward Nate Flower was on the second state team as the fourth consecutive polar bear champion rep.
"We had teams that were talented and we had teams that had great talent individually, but at all three levels – striker, midfielder and defense – I felt like we had the best players at those. three positions, and I don't think I've ever seen a team that had that. Any of those three could take over a game, and any of them could take over if another hadn't. not a good game, and if all three were on, heaven help the other team.
"They are three great players, but the other thing that has really impressed our coaching staff is that they are selfless. They put the team ahead of themselves, and hopefully that's the one thing we will really remember next year with the group we have back.
Towns and the Branch Brothers' All-State caps for Fairmont Senior tied the Polar Bears with Charleston Catholic for the most team selections in the state, with the Irish class AA-A finalists placing midfielders midfielder Wil Swan and Aidan Paul as well as goaltender John Patnoe in the first team.
Scott, the only Class AA-A team to beat Fairmont Senior last season, and Point Pleasant each have two players who took home All-State First Team honors. The Skyhawks were represented by forward Carson Asbury (20 goals, 13 assists) and defenseman Evan Constant, while Point Pleasant had forward Adam Veroski (22 goals, 5 assists) and utility player Braxton Watkins-Lovejoy (19 goals, 3 assists).
Liberty's Hayden Dodd (23 goals, 9 assists) joined Towns, Asbury and Veroski as the final striker of the first team, while Austin Nestor of Wheeling Central (24 goals, 14 assists) and Ethan Gregory of Philip Barbour (12 goals, 6 assists) joined Swan and Jonas Branch to complete the group of midfielders. Herbert Hoover's Will Mercer and Robert C. Byrd's Aidan Gamble completed the first-team defense alongside Constant and Isaac Branch, with Patnoe at the goalkeeper.
Finally, East Fairmont senior forward Lance Cerullo (22 goals, 4 assists) joined Paul and Watkins-Lovejoy as the first team utility selection.
Scott midfielder Ian Gillispie has been named All-State Second Team captain, and he is joined in midfield by Williamstown's Garret Hill, Winfield's Caleb Hawks and Lewis County's Owen Spangler. The second team is made up of Nate Flower of Fairmont Senior, Braxton Vanscoy of Winfield, Dustin Stuart of Hoover and Jaxson Haynes of Sissonville.
The second team is made up of Brenden Carpenter of Weir, Blake Spangler of St. Joseph, Justin Williams of Poca and William Ball of Charleston Catholic. Wade Britton of Notre Dame and Jacob Clark of Oak Glen are the team's second goaltenders.
Weir's Antonio Pittman and Wheeling Central's Ryan Prager round out the All-State teams as the second team of utility players.
Three other Marion County players have been named Honorable Mentions of All States, East Fairmont midfielder Luke Hawranick and defenseman Eli Morris, and Fairmont senior defenseman Cale Beatty taking those honors.
All-State Class AA / A Boys' Soccer Teams
By the West Virginia Sports Writers Association
First team
F Bubby Towns, Fairmont Senior
F Carson Asbury, Scott
F Adam Veroski, Point Pleasant
F Hayden Dodd, Liberty
Branch M Jonas, Fairmont Senior (captain)
Mr. Austin Nestor, Wheeling Central
Mr. Wil Swan, Catholic of Charleston
Mr. Ethan Gregory, Philip Barbour
Dr. Evan Constant, Scott
Dr. Isaac Branch, Fairmont Senior
Dr. Will Mercer, Herbert Hoover
Dr. Aidan Gamble, Robert C. Byrd
GK John Patnoe, Catholic of Charleston
Utl Aidan Paul, Catholic of Charleston
Utl Braxton Watkins-Lovejoy, Point Pleasant
Utl Lance Cerullo, East Fairmont
Second team
F Dustin Stuart, Herbert Hoover
F Jaxson Haynes, Sissonville
F Nate Flower, Fairmont Senior
F Braxton Vanscoy, Winfield
Mr. Ian Gillispie, Scott (Captain)
Mr. Garret Hill, Williamstown
Mr. Caleb Hawks, Winfield
Mr. Owen Spangler, County of Lewis
Dr. Brendon Carpenter, spillway
Dr. Blake Spangler, Saint-Joseph
Dr. Justin Williams, Poca
Dr. William Ball, Catholic of Charleston
GK Wade Britton, Notre-Dame
GK Jacob Clark, Oak Glen
Utl Antonio Pittman, Weir
Utl Ryan Prager, Wheeling Central
Honorable mention
Aiden Adams, Frankfurt; Jonathan Atchison, Lewis County; Cale Beatty, Fairmont Senior; Bryson Beaver, Herbert Hoover; Sean Beverage, Pocahontas County; Blake Bibbee, Ravenswood; Calvin Blunt, Trinidad; Gavin Bosgraf, Williamstown; Alex Bovino, Robert C. Byrd; Brendon Carpenter, weir; Sam Carpenter, County of Lewis; Alex Cavendish, Nitro; Grant Dadisman, Philip Barbour; Seth Eads, Winfield; Seth Earnest, Keyser; Ian Gadd, Nicholas County; Johnny Garlow, Poca; Jacob Garrett, Sissonville; Guilio Gentile, Wheeling Central; Andrew Giambroni, Oak Glen; Conor Goldizen, Grafton; David Gongola, Elkins; Luke Hawranick, East Fairmont; Max Jackson, Elkins; I'm Johnston, Pocahontas County; Jordan Jones, Liberty; Carmelo Kniska, Trinidad; Andrew Komorowski, Wheeling Central; Seth Marra, Ravenswood; Liam McGinley, Catholic from Charleston; Blake Meighen, Robert C. Byrd, Jacob Morgan, Weir; Eli Morris, East Fairmont; Ben Nestor, Frankfurt; Max O'Ganian, Pocahontas County; Ben O'Leary, Nitro; Luke Pinkerton, Point Pleasant; Stephon Polly, Oak Glen; Brandon Price, Pocahontas County; Jaden Reed, Point Pleasant; Wyatt Rock, Liberty; Isaac Setser, Scott; Wade Setser, Scott; Michael Simpson, Sissonville; Wylie Skidmore, Braxton County; Isaac Snider, Magnolia; TD Sparks, Pocahontas County; Alec Stanislawczyk, Keyser; Sion Suddeth, Catholic from Charleston; Kelan Swan, Catholic from Charleston; Johan Villasenor, Nicholas County; Trenton Whited, Philip Barbour; Gavin Wolverton, Grafton