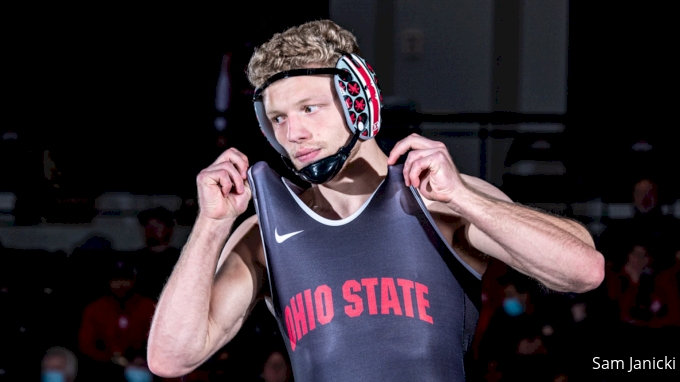 Blog Live: 2022-23 Ohio State Wrestle-Offs
The 2022-23 NCAA wrestling season is almost here! Can you believe it?
You better believe it, because we wouldn't be blogging about Ohio State's struggles if we weren't!
We're here to provide real real-time updates that we hope you find really good. You can also follow live on BTN+ if you have a subscription (like me, don't try to brag, just say).
Here's the fighting order of the Buckeyes themselves.
𝙒𝙍𝙀𝙎𝙏𝙇𝙀-𝙊𝙁𝙁 𝙁𝙄𝙉𝘼𝙇𝙎

📍 Covelli Center | Columbus, Ohio
🚪 Doors at 7:30 p.m.
🕗 8 p.m.
🎟️ 𝘍𝘙𝘌𝘌
💻 BTN+#GoBucks pic.twitter.com/tyOWPmM7ov

— Ohio State Wrestling (@wrestlingbucks) October 27, 2022
Previous results from Tuesday's catch-off:
125: Brady Koontz beats Brendan McCrone, 5-3
125: Andre Gonzales beats Brady Koontz, 6-4, SV
133: Dylan Koontz beats Alex Flerlage, 7-0
165: Bryce Hepner defeats Carter Chase, fall 3:44
197: Seth Shumate defeated Tyler Stein, InjDef
285: Nick Feldman beats Mike Misita, 11-4
Final-round college bouts are scheduled to begin at 8:00 p.m. ET.
125: #12 Malik Heinselman vs. Andre Gonzales
Sammy Sasso in the booth to help with the announcement!
1st period: Slow start, then only one run for Heinselman. He fights through a shin whizzer and lands a takedown with 45 remaining in the period. The quick escape makes it 2-1. The period ends.
2nd period: Another breakaway from Gonzales brings the score to 2-2. Collar ties and not much else in this period.
3rd period: Heinselman tower down. He leaves quickly. RT not a factor. And just on another single stage, but it is deemed potentially dangerous halfway through. It will do it and Heinselman takes it. Good performance from young Gonzales.
Heinselman defeats Gonzales, 3-2.
133: Jesse Mendez vs. Dylan Koontz
1st period: Our first look at highly touted blue chip rookie Jesse Mendez in a Buckeye jersey. Snap down go behdind and Mendez controls the pace and scores the first takedown. Quick escape, 2-1. Rest again, now on short attack, and Mendez rides Koontz for a pancake and a pinfall! That's how you get your start at the Covelli Center!
Mendez pins Koontz, 1:58
141: #9 Dylan D'Emilio vs. Jordan Decatur
1st period: Decatur a former starter trying to get back into the lineup. His days at 133 seem to be over. D'Emilio an NCAA qualifier at 141 the past two seasons. Decatur swims one leg and he quickly converts to quickly take the lead. They go out of bounds and D'Emilio escapes on the restart. 2-1. D'Emilio on a single, Decatur over, catches wide ankles. D'Emilio trying to lean back and put Decatur in danger. The wild stampede was ultimately deemed potentially dangerous. The period ends, still 2-1.
2nd period: Decatur gets an all-in return to start the period. D'Emilio gets up and is free on his next attempt. No RT on the dash but looks like it reads about 40 seconds in favor of Decatur as I recall the comment. I believe Kollin Moore also helps in this regard. Shortly in second, 2-2 the score. The period ends.
3rd Period: Decatur's turn down, he has the only out of the fight so far. The mat return for D'Emilio nearly catches Decatur in the middle of the somersault and gets a count but no near pinfall. Out of bounds, 1h23 on the clock. A straddle would do it for D'Emilio but Decatur suggests that strategy by rolling forward and standing to escape. Nice single from D'Emilio, passes to a double and he brings Decatur back to the mat. Decatur tries to step over but D'Emilio fights back and gets the takedown. Less than 30 to go. Can Decatur escape? They go out of bounds, saving D'Emio who was getting a count for hanging himself on one leg. 10 seconds remaining. Watch out from Emio. And Decatur is out! And he has a takedown in the final seconds! No exam, so the results are valid. Decatur wins it in the last second of action.
In a fight this close, you'd think trainer Tom Ryan will continue this challenging streak, but right now the advantage lies with Jordan Decatur.
Decatur defeats D'Emilio, 6-4
157: HM Paddy Gallagher v Isaac Wilcox
1st period: Gallagher, a redshirt freshman, scored enough to earn an honorable mention in the standings. Lots of manual fighting in the first half but no shoving or anything after 2 minutes. It's a 0-0 for the first time.
2nd period: Gallagher in the gray passes below. Wilcox in scarlet on top. Gallagher rushed out. Now Paddy starts taking low shots. No outs, 45 seconds remaining in the period. Low shot with 20 on the clock, stall call on Wilcox, Gallagher with the double low set for a 3-0 lead, and he's out of the period.
3rd period: Gallagher rides Wilcox out of bounds after 30 seconds of action. Gallagher gets RT over a minute with just over 60 seconds of mat time remaining in the third. Wilcox rallies downstairs, gets up and out with 45 on the clock. 3-1 for Gallagher. There are 30 seconds left and the driving time is locked for Paddy. Wilcox shoots, one leg, Gallagher's shin whizzer defense and it eats all but the last 6 seconds of the game. Gallagher closes it for a 4-1 lead with the RT point added.
Gallagher defeats Wilcox, 4-1
165: #7 Carson Kharchla vs. Bryce Hepner
1st period: It's Kharchla with a silent 'K' and an aspirated 'H'. Kharchla placed 7th at last year's NCAA. Hepner from 157 where he started for the Buckeyes last season. No score after the first minute. Kharchla keeps the pressure on, almost hitting a triceps control dump on a follow up shot. Still no goal after a second minute but Kharchla is on a deep shot. Lots of exposure but he keeps Kharcla from taking control so no folkstyle scores. Now Hepner has struck with a stall warning. Kharchla again through the head and hands, but some good hips from Hepner and he successfully defends. The period ends 0-0.
2nd period: Hepner gets up and escapes Khrachla's grip after about 30 seconds. Kharchla's level change and Hepner rang again to concede a point on the stall call. Kharchla cracks down and abandons the two. Hepner continues to fight as if he still isn't on the ground. Period ends, umpires will have a conference, no brick challenge. And they will waive the withdrawal but put more time on the clock. 20 more seconds and they start the match again. The period ends (again) chest to chest and it's 1-1 before the third (Hepner was booked for stalling twice).
3rd period: Kharchla down. Boot and a cross-body round come in immediately from Hepner. Kharchla can't break free and they go out of bounds after 70 seconds. Hepner could do it with 50 seconds more driving time. 30 seconds remaining in the period. RT on a minute for Hepner and potentially dangerous is called just as Kharchla closes in on the run. The reboot certainly helped Hepner. Last 10 seconds and Hepner gets the rideout! All-American Carson Kharchla loses thanks to a fantastic third-period pass from Bryce Hepner!
This is another battle that I expect to continue throughout the year.
Hepner defeats Kharchla, 2-1
The team's score is tied, Scarlet 9, Gray 9, although that score doesn't make sense.
174:6 Ethan Smith vs. Bryer Hall
1st period: Another All-American for the Buckeyes, Ethan Smith, who ranked 5th in 2021, will look to avoid the fate of Kharchla. Quick disassembly for Smith. Hall comes out straight, Hall shoots, it's defended and Smith with a go behind and a 4-1 lead. Another breakout and a quick thunderbolt behind Smith. Doesn't quite score at start but gets it on second effort. Attempt to suck but no imminent fall. More takedowns than I can follow and Smith made it 10-4, opted for a start over his cement job to plow Hall on his back and secure the fall. No doubt about it, it was Smith all the way.
Smith pins Hall, 2:27
184: 4 Kaleb Romero vs. Gavin Bell
1st period: The not to be outdone All-American Romero gets a takedown in the first ten seconds. The breakout makes it 2-1 as Coach Ryan joins the award-winning commentary team. The double down is 4-1. Romero takes a quick spin before cutting Bell with just over a minute left in the period. The single leg is converted to make it 6-2. Romero was also ranked 6th last season. Another out after a hard fight from Bell, but Romero makes it 8-3 as the period ends with a short drive.
2nd period: Romero chooses down. Sit down and Romero is quickly out. Blast doubles and Romero will keep Bell on the mat to collect two more near drops and his 13-3 just like that. One breakout and it's 13-4. Double leg by Romero, 15-4 with a minute to go in the 2nd. Optional start, go behind, 17-5. Go out.
3rd period: Romero cuts Bell again. Go behind and it's 19-6. Teardown, 21-7. Start of options. The next out will shorten this game.
197: 8 Gavin Hoffman vs. Seth Shumate
285: 8 Tate Orndorff v Mike Misita